Jurassic World: Dominion Dominates Fandom Wikis - The Loop
Play Sound
What is Dogecoin?
[
]
Dogecoin
Date of Introduction:
December 6th, 2013

Subunits:

100,000,000,000 = moondoge

1,000,000,000 = updoge

1,000,000 = slumdoge

1,000 = heavydoge

0.01 = puppy

0.001 = mDOGE (millidoge)

0.000001 = μDOGE (microdoge)

0.000000001 = nDOGE (nanodoge)

Symbol
D or Ɖ
Plural

Dogecoins or DOGE
Dogecoin (code: DOGE) is a Litecoin-based digital cryptocurrency which is based on the 'doge' internet meme. It's also the first currency to be based upon an internet meme. More information here.
Mining
[
]
Starting september 2014, dogecoin is merge mined with litecoin.
Peer Markets
[
]
Users of the Dogecoin have been selling and buying since the very first days. Buyers and sellers have flocked to popular forums, especially the Dogemarket subreddit , to buy and sell Dogecoin in large quantities. Be careful! Some of the trader shibes there bite!
There is speculative interest in the new currency due to its meme image and jovial attitude towards a fairly complex paradigm of the digital cryptographic currency world. Doge has become a internet sensation, picking up the curiosity of tech websites and users alike. The Dogecoin can be traded for fiat currency and for other digital currencies such as Bitcoin (BTC) and Litecoin (LTC).
Many people from all walks of life have become a part of the new Dogecoin paradigm. Anyone can join in the conversation at the Dogecoin subreddit .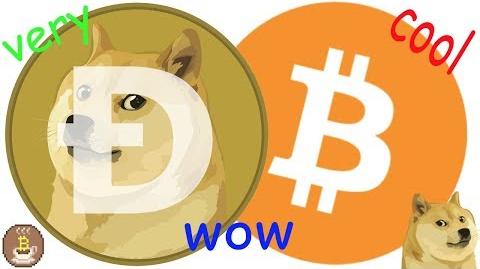 Growth
[
]
Dogecoin has had aggresive growth from the very beginning, even making it the most valuable crytopcurrency at one stage, vaulting over Bitcoin (BTC) for a very short time. The trend of Dogecoin is unorthodox. An initial speculative price increase pushed the overall market value of the coin to 2.8 trillion Dollars, however it quickly fell back to a more stable price. Despite the inevitable fall of value, use of Dogecoin has been growing considerably. People have seen the true value of this charming coin, with users investing large sums of fiat money to invest in the coin. December 18, 2013 marked the start of trading in Dogecoin at a major exchange, namely Cryptsy, followed by Vircurex the next day.
Donations
[
]
Do you appreciate what we are doing here? Then feel free to donate to any faucet to keep them full.